Outdoor Signs & Exterior Signs
View Outdoor Sign Gallery
Your exterior signs are the driving force that brings customers to your doors to see who you are and what products or services you have to offer. With attractive, brand building and promotional outdoor signage custom created by your local Tempe sign shop, Axe Signs & Wayfinding, you can be sure to make the right first impression!
Whatever your promotional needs are, we can create it! Axe Signs & Wayfinding designs, fabricates, and installs many types of exterior signs, including vinyl window displays, wide format banners, yard signs, and more. From single signage elements to complete signage collections, you can be confident that your signage will increase brand visibility and customer flow.
We work within your defined brand guidelines, utilizing your logos, fonts, and colors throughout all of your signage elements. Consistency is essential to not only reinforcing your brand but also displaying the professionalism of your business. When you're looking for a truly eye-catching exterior sign that customers can't resist, Axe Signs & Wayfinding is the signage partner for you.
Call Axe Signs & Wayfinding at (480) 658-0119 for a Free Consultation with an Outdoor Sign Specialist!
Promotional Signs For Your Business

Promotional signage can come in a variety of different products, including wide format banners, promotional window signs, A-frame signs, yard signs, real estate signs, just to name a few. If you're looking to promote a special event, new product launches, a grand opening, or simply want to create awareness, Axe Signs & Wayfinding has the outdoor signs to help you accomplish your goals.
Whether you know precisely what promotional signage you need or need some help getting started, our knowledgeable exterior signage consultants will discuss your ideas and goals, and recommend the right products to help you achieve those goals. From your initial free consultation through completion of your project, Axe Signs & Wayfinding is committed to ensuring your complete satisfaction.
Outdoor Banners
Axe Signs & Wayfinding creates all types of banners to help you promote your business, event, or special occasion. With a wide range of material and size options, you are sure to get the right banner for any personal or business need.
Whether you need a tradeshow banner, outdoor event banner, wide format promotional banner, or any other custom banner, Axe Signs & Wayfinding will work alongside you to create a banner tailored to your specific need, timeframe, and budget. We handle every aspect of the banner creation process to ensure that your banner not only meets your goal but looks beautiful in all weather conditions for years to come.
Vinyl banners and wide format banners are ideal for promoting special events, product launches, grand openings, and so much more.
A-Frame Signs
A-frame signs have been an effective form of advertising in multiple industries for over a century. Also known as sandwich signs, they are a great investment as they are quite affordable but can boost walk-in traffic by getting the attention of passersby and directing them to your business.
With a variety of sandwich sign options to choose from with Axe Signs & Wayfinding, your business can have the perfect sign to advertise products and services, promote special offers, and serve as wayfinders. Our A-frame signs come in various sizes; from as small as 12" x 24" signs to as large as 48" x 72". You can also choose to have them in landscape or portrait orientations.
A-Frame signs are a versatile option for businesses looking to attract customers to their business, promoting special offers, or offer street-side wayfinding assistance.
Yard Signs For Any Occasion
Yard signs, also known as bandit signs or coroplast signs, are a fantastic way to advertise your special event, educate potential customers and clients about your products, or support your favorite candidate, without a considerable investment.
As a leading sign manufacturer, we are proud to provide you with the most affordable, attractive yard signs in town! By utilizing state-of-the-art machines and proven manufacturing processes, we can create any type of yard sign you may need to promote your business, group, organization, or special event.
Yard signs are proven to be one of the most effective business marketing tools and are ideal for promoting your business, advertising new or seasonal products, informing your guests of important information, and much more!
Complete Exterior Signage Provider
Whether you're a retail business or a non-profit organization, every business can use outdoor signage to increase brand visibility and improve customer perception. Whether you want to highlight your high-quality products, outstanding services, or just let the world know you exist, Axe Signs & Wayfinding will develop the right custom signs to support your goals.
We create all types of outdoor signs, including real estate signs, yard signs, A-frame signs, vinyl window signs, and any other business sign you may need.
Looking for cohesive indoor signs? We do that, too! Whatever your need, Axe Signs & Wayfinding has you covered!
Our other exterior signs include:
Not seeing the sign you want? This list is just an example of the variety of outdoor signs we can craft. We have the skills, tools, and experience needed to create the right outdoor signs for your brand and business.
Full-Service Exterior Sign Company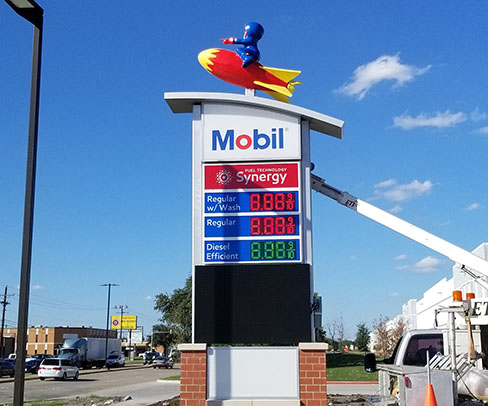 At Axe Signs & Wayfinding, we offer a vast selection of outdoor signage for every need. We include you in every aspect of the sign creation process, including design, fabrication, and installation. If you already have some signage, we are happy to utilize your existing brand guidelines or create new guidelines for you to use moving forward.
We don't expect you to be a graphic designer or employ one to work with us. Our knowledgeable graphic design team will create the right file type in the right size for quick printing on our sign equipment. We can assist you with designing outdoor banners, real estate signs, yard signs, A-frame signs, and any other sign element you need.
For many of our exterior sign solutions, we provide professional installation to ensure your product is safely secured, works in your space, and looks great. If your product is simple and you desire self-installation, we are happy to provide the tools and advice that give you the best chance at a successful installation.
Free Outdoor Sign Consultation
Axe Signs & Wayfinding custom crafts eye-catching, compelling exterior signs for your business, organization, or personal needs. We focus on creating attractive, high-quality signage that supports your goals of customer attraction and brand visibility. We look forward to providing you the signage solutions that help you achieve your business goals.
Call Axe Signs & Wayfinding at (480) 658-0119 for a Free Consultation with an Exterior Sign Specialist!